Have you seen these around lately?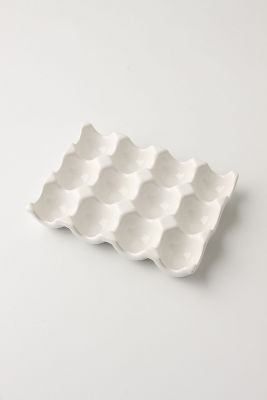 Ceramic egg crates! They have been popular for a year or so and I have always loved the idea of using them to decorate but $7+ bucks on an egg crate?! Seems a little ridiculous for this thrifter.
My head jumps to all the things you can find an repurpose to look new for the amount you would pay for ONE of these.
Granted $7+ isn't breaking the bank… but you have to pinch pennies where you can.
Am I right?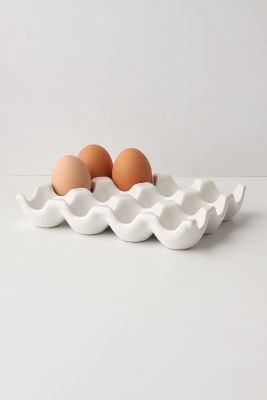 $7.95 @ Anthropologie
$12.95 @ Sur La Table
$17.99 @ Target for the set
Well, when I was at Ross a few days ago – looking for a large stock pot – something caught my eye
After flipping it over to examine the price I was shocked to see a $2.50 sticker!
There were three left and everything in me wanted to grab all of them. Problem is, I just wasn't quite sure what I would be doing with them – so I decided on two and headed to check out.
No stock pots to be found – but egg crates were a great substitute.
For the moment they are working great as shelf decorations on that weird empty space I mentioned Tuesday.
But these crates could really be used for a full gander of things.
Maybe they will make it to the craft room and hold needles, pins, and odds/ends (rhyming like a champ and not even meaning too!)
Or maybe I will use them for bobby pins (because Lord know I have an plethora!) hair ties, and clips…
They would even work for jewelry or office supplies…
Maybe I should have gotten all three. Either way $5 for TWO ceramic crates was a steal of a deal.
Thank you Ross :)